Le Teich sits in the Arcachon Bay along the beautiful Aquitaine Coast in France. With a friendly, relaxed atmosphere, it's no wonder Le Teich is so popular with families. There's a huge range of activities for families in Le Teich and the surrounding area, from roller coasters to beach days and wildlife spotting. Read our list of top ten family activities that are sure to tick the boxes.
If we've managed to tempt you to come and sample our coastline, we have a property in Le Teich itself; Résidence Les Rives Marines, sleeping two to eight people per apartment. A week's stay starts from €227.

Be King of the Jungle at park Bassin Aventure
Take to the treetops and swing through the canopy like a family of monkeys at park Bassin Aventure. There are twelve courses to choose from, each presenting their own views and challenges along the way.
All courses have their own woodland names, from Grasshopper and Hare (easy) to Seagull (medium) and Eagle (difficult), right up to Monkey (very difficult), depending on what type of course and level of difficulty you want to try.
The park is just a ten-minute drive from Le Teich, plus there's a snack bar with a terrace for a well-earned lunch after your climb.

Make a splash with Yak'Océan
If standing tall on the waves and glibly paddling your way around the coast sounds like your idea of fun, then Yak'Océan is the place to go. This water sports school doesn't just offer Stand Up Paddle though, you can try kayaks, wave rafting and Hawaiian canoes as well. Activities vary from a quick daytime experience on the beach to an afternoon's canoe hiking, or even twilight SUP.

Observe the birds at the Le Teich Bird Sanctuary
On the Arcachon Bay sits one of the richest bird sanctuaries in France. There are over 350 species of birds protected in the area, which are allowed to live safe and peacefully. The sanctuary covers 110 hectares of natural space, with discovery huts open for visitors to pick a perch and observe through the comings and goings of geese, grebes, herons, egrets, storks and even falcons and buzzards.

All Aboard with Eco Plaisance Delta Boat Rental
Which children have never wanted to go on a boat trip? In Le Teich, it's really easy to rent electric boats for a meander up the Leyre, the river that runs along the coast, southwest of the Arcachon Bay.
Eco Plaisance Delta offers environmentally friendly boats to rent, which can carry up to 7 passengers, and are silent and easy to navigate, allowing you to explore the countryside in peace. As these boats are electric, there's no need for permits, and you can helm yourself, without an instructor. Prices start from €35.

Pedal away on a bike ride in Le Teich
Le Teich sits within the huge network of bike paths through the Aquitaine region. Le Teich itself has over 12.5 km of bike paths to explore, mainly leading through the pine forest or along the coast. There are two bike rental shops; the Tourist Office, and Villetorte Loisirs. La Vélodyssée is a cycling route running the length of the Atlantic French coastline, so if you fancy venturing outside of Le Teich, you're sure to find your way back with this route.

Dive in at Aqualand
Bring your togs and head to Aqualand Bassin d'Arcachon. A crazy water park filled with slides, rides and pools galore – you're guaranteed to turn into a prune! The park offers a swimming-pool sized hot tub, a splash zone playground for little ones, as well as high-octane slides such as Tornado, Boomerang, Indiana Falls and Black Hole.
Located in Gujan Mestras, this park is less than a 30 minute bike ride from our Résidence Les Rives Marines.

Take a day trip to Arcachon
Arcachon is the largest town in the Arcachon Bay. Here everything is made for families, from a stroll on the docks, a trip along the pier to simply messing about on the beach. Arcachon also has a rich cultural heritage, and must-see attractions include; Le Pointe de l'Aiguillon, which is a former fishing village that now cultivates delicious oysters, and the Moorish park, which is a botanical garden made up of 4 hectares filled with rare plants and pretty bridges and bandstands.

Make friends with the animals at the Zoo du Bassin d'Arcachon
This zoo is currently the largest on the Aquitaine coast, with over 800 species of animals, originally from 5 continents. This zoo takes the protection of endangered species seriously, and the animals live here with plenty of space to roam.
The family of animals here includes cheetahs, snow leopards, jaguars, bears, rhinos, hippos, giraffes and even elephants, and not to mention a whole host of cheeky monkeys and preening birds.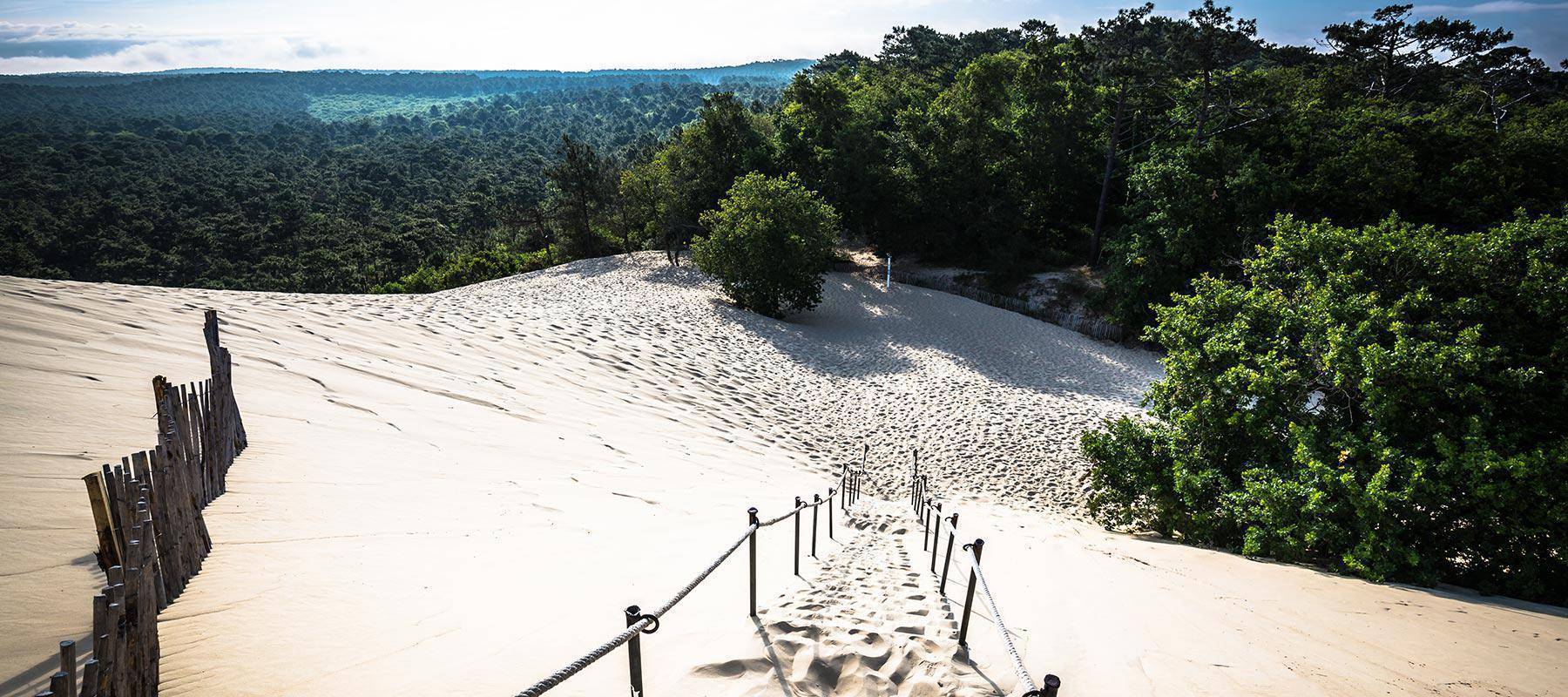 Be the king of the sandcastle at La Dune du Pilat
The Dune du Pilat is the highest sand dune in Europe, rising to 110-115 meters depending on the time of year. Children will love climbing up and rolling all the way down this soft, sandy natural monument. Dust yourselves down and enjoy a picnic, or take a dip in the gorgeous sea.
There are often educational activities organised on the dune for families, explaining all about this sand monster, which is gradually moving inland, swallowing the trees behind it.

La Coccinelle animal park
An amusement park for younger children, Lady Bug (La Coccinelle) Animal Park is a family-friendly petting farm. Children will learn how to look after the animals, from feeding piglets to cuddling guinea pigs and petting the llamas. There are also rides and games to play with, including mini roller coasters, slides and bouncy castles.