Pitting the Brits against the French on their holiday habits…
From diverse delicacies to seriously differing opinions on the value of a queue, The Frenchies and Les Rosbifs have always enjoyed a bit of healthy competition. So with Euro 2016 on the not-too-distant horizon, and the first kick-off on the 10th June in Paris, the air is heavy with competition.
But what about when it comes to holidays? With our feet firmly placed on both sides of the Channel, and an influx of British football fans this summer, we wanted to know whether our characterful quirks translated into holiday habits, too.
Madame Vacances turns 25 this year, and as part of the celebrations we asked 250 French residents and 250 British residents how they prefer to holiday. This is what we found!
What's most important when holidaying?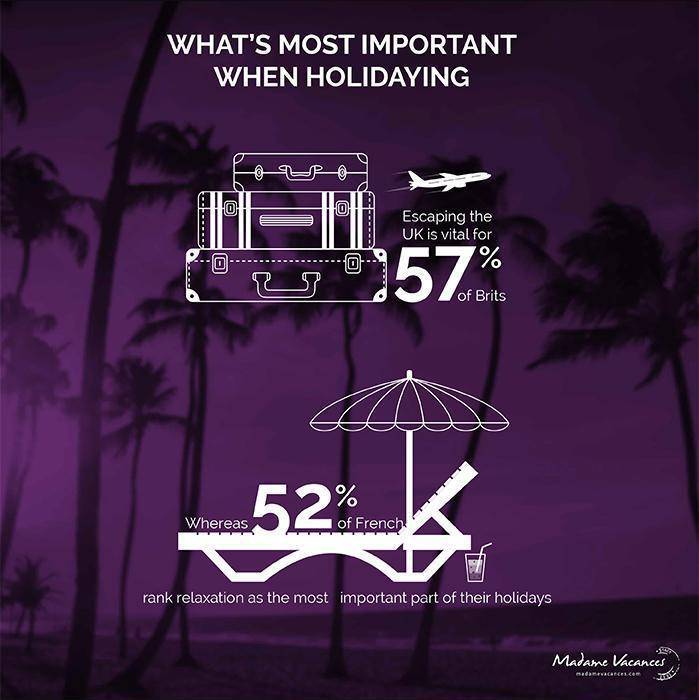 For Brits, escaping to a different country is the most crucial factor. 57% cite leaving the UK as vital – so much for the Great British Staycation! Incidently, we've heard the South of France is unrivalled throughout the summer…
In contrast, the majority (52%) of French holidaymakers class relaxation as the most important element.
To tip or not to tip?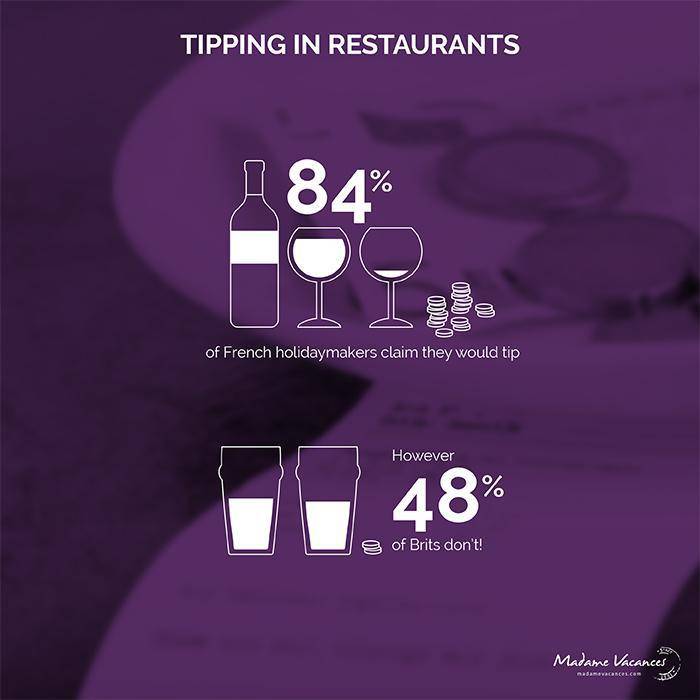 When it comes to forking out to say thank you, the French are far politer than the Brits. 84% of French holidaymakers claim they would tip in a restaurant abroad, leaving 16% of the nation keeping the purse strings nice and tight.
That's compared to a whopping 48% of Brits saying they wouldn't bother leaving a tip while on holiday! What happened to British etiquette, England?
Speaking the language of the locals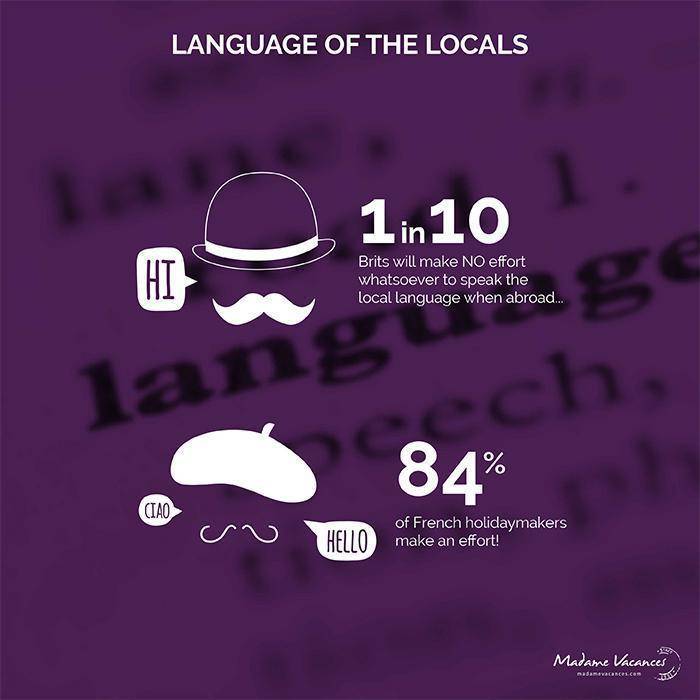 1 in 10 Brits admitted to making no effort whatsoever to speak the lingo when on holiday, compared to less than half that figure when we asked the French.
Just shy of 70% of Brits said they would make some effort to speak the language in another country (dubious, at best), while an impressive 84% of French travellers say they would attempt the local lingo.
Perhaps the British are a bit too used to others speaking English when abroad….
The best capital city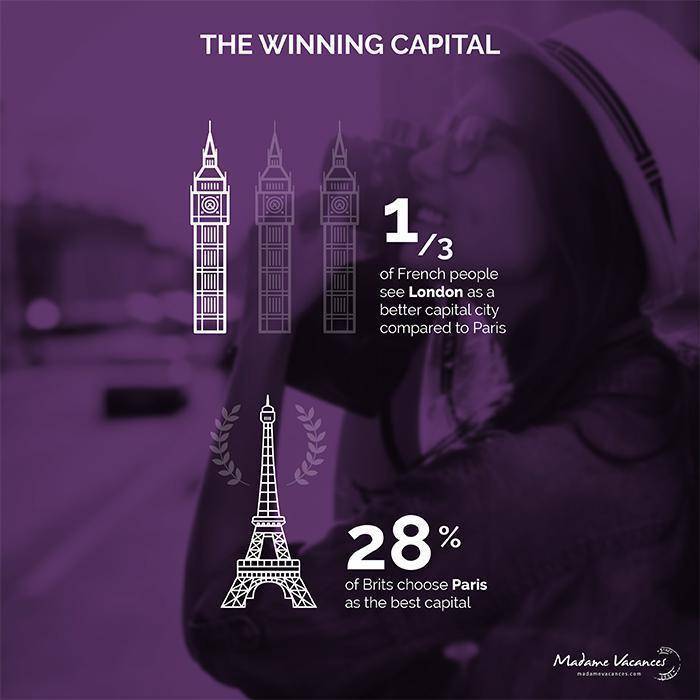 In a break away from patriotism, 33% of French voted London as a better capital city than Paris! 28% of Brits returned the favour, stating Paris as their preferred location over London.
Appearance, selfies and letting go
Other stand-out results from the survey included the importance of looking good on holiday: 47% of French vs. just 24% of Brits state appearance as key.
France is also more open to admitting taking a cheesy holiday selfie, with over half using the infamous selfie stick. Brits were shyer in admitting to a sneaky selfie, with only 31% owning up to it. There's probably a few selfie-taking fibbers hiding among the crowd….
Are you a panic packer or tidy traveller? It looks like the French are more organised, with 67% starting to pack a few days in advance, whereas 46% of Brits leave it to the night before!
And finally, when it comes to peeling ourselves away from our desks to actually go on holiday, it's France that's more eager to spend longer away from the office. Just over half (52%) of French workers plan to holiday for 2-3 weeks this summer, against just 28% in the UK.
Active or pas actif?
And it looks like the passion for the Six Nations and Euros is mirrored on a typical French holiday, too. With 31% of French citizens stating that being active on holiday is key, compared to just 14% of Brits…
The picky eater challenge
When it comes to dabbling in all things new and wonderful, interestingly, it's the French who are more reluctant to leave their fromage behind. A third refuse to sample local cuisine, instead opting for what they know. But to be fair, French cuisine is up there with the best.
Often-renowned as being slightly unadventurous, it's the Brits who are eager to try out the local cuisine, with almost 80% saying yes please to traditional delicacies!
The scores are in
The French win on holiday style, tipping and speaking the language, but the Brits take the trophy when it comes to (surprisingly) their adventurous streak!
Madame Vacances looks forward to the ongoing competition with the Euros, and welcoming British fans to French soil in pursuit of the Euros crown – you might have Kane, England, but we have Pogba!
Summary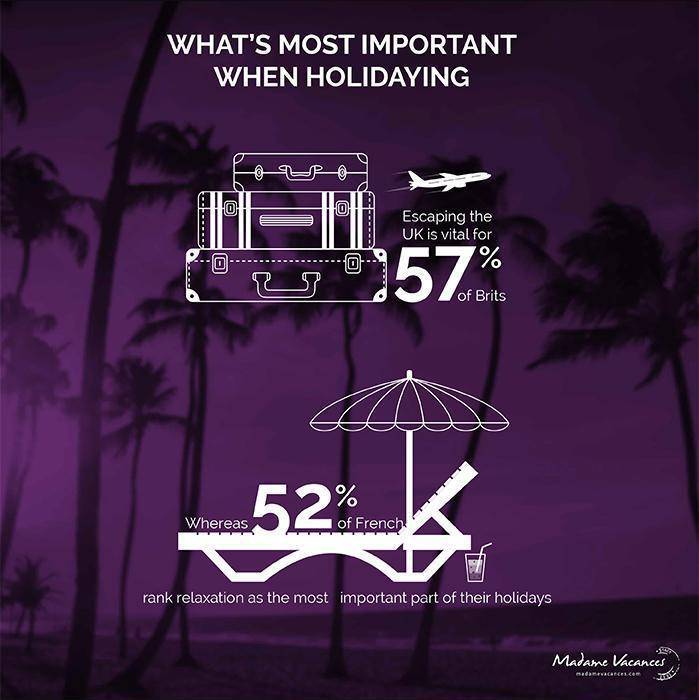 Article Name
Holiday Head to Head - UK v FR
Description
Pitting the Brits against the French on their holiday habits…Madame Vacances asked 250 French residents and 250 British residents how they prefer to holiday. This is what we found!
Author