This summer, Madame Vacances sent family blogger Jenography to Moliets in Aquitaine. We know full-well how fabulous Moliets is, but we acknowledge we're biased, so we wanted to treat Jennifer and her daughter Lillian to a stay in one of our villas so they could experience it for themselves.
During the week we also set them a few tricky challenges to ensure they got the most out of the Moliets activity offering! They caught the action on a GoPro, from riding their first waves, to sampling a French delicacy… watch the video below for the full low-down.
Jennifer's thoughts on Moliets? 'It's the best place in France you've never heard of.'
The Villas
Jennifer and Lillian stayed at our Villas La Clairière aux Chevreuils, on a self-catering basis. Prices start from £699 per week for a villa that sleeps up to 8 people. We're particularly fond of these villas, which are, in Jennifer's words: 'some of the most luxurious villas Madames Vacances has in the area. Each has its own sparkling swimming pool, and inside they are perfectly arranged for large family groups or multi-family getaways, with each bedroom containing its own ensuite bathroom, some with tubs.'
The Challenges
The challenges we set Jennifer and Lillian were to determine just who is the most daring, and who has the most fun on holiday; adults or kids?
The first challenge dawned breezy, as the Jenography team took to the beach to catch their first wave. Lillian smashed it, and claimed the first point.
Next came the tree-top ropes course, where Jennifer leapt like a daredevil onto an inflatable airbag, and then conquered the highest zipline with only one teeny scream! Jennifer waltzed ahead with two points.
Lillian was not to beaten though, and took to the water on a paddle board without falling off, before sampling the local cuisine in the form of snails! Lillian snaffled a further two points.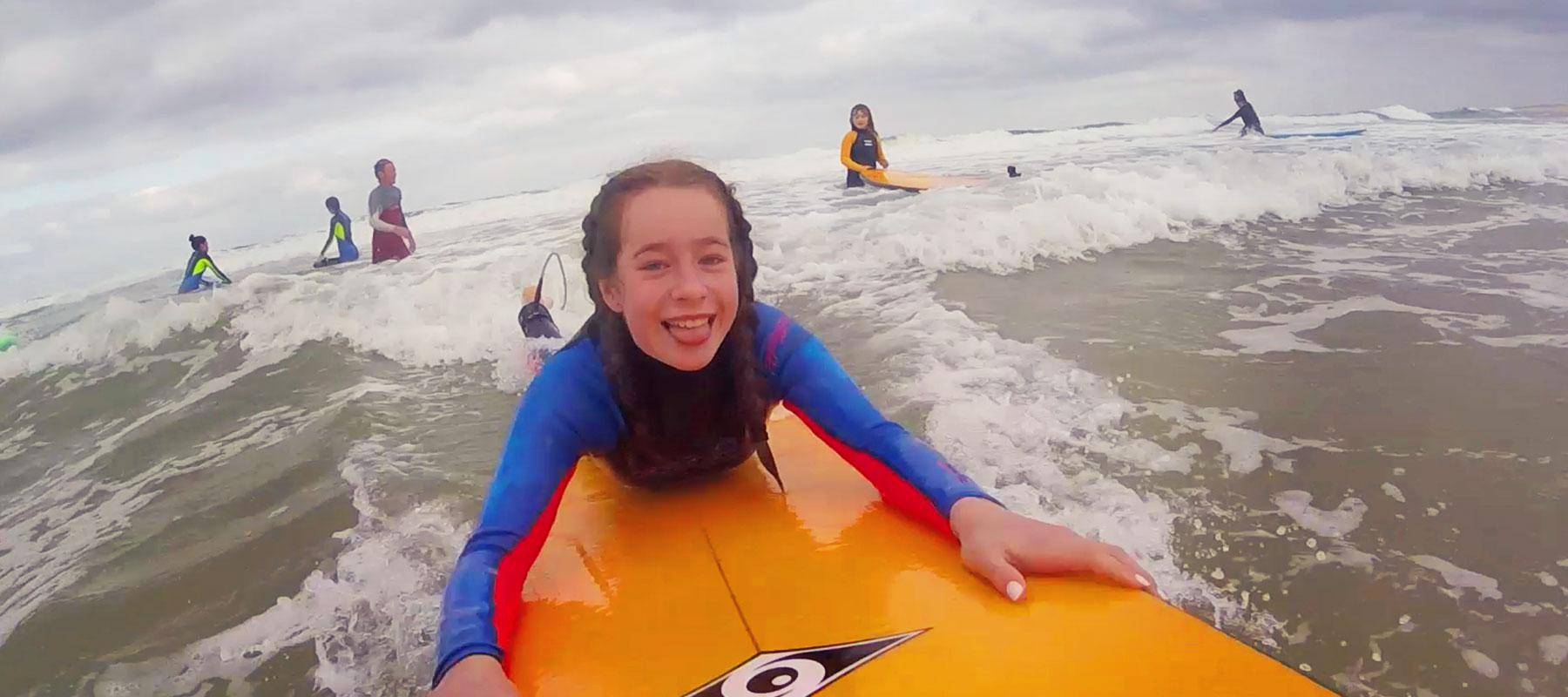 The Scores
When the scores were in, and an exciting week had been enjoyed, Lillian snuck out on top with three points to Jennifer's two!
All quotes from Jennifer were taken from her blog posts on Moliets. Read more from Jenography here.
Next week, we'll be watching another video from family blogger whosthemummy.co.uk on her Moliets experience!